Column
Update at: 2/1/12
Tomioka town 2012.1.28, Decontamination Report ③
A group of cattle near by the security checkpoint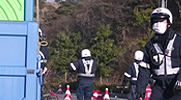 We saw the security check point and it was so fast that I have not yet prepare my mind. The policeman from all over Japan comes round on patrol and the security checkpoint. Many patrol cars passed us on the way here.
At the security checkpoint, it is necessary to show a driver` s license and permission document to pass through this area. Finally, we passed here after some brief explanation of our purpose why we came here.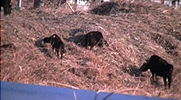 In about 5 minutes after left from the security checkpoint, we found a group of cattle eating grasses. There were a handful of cattle, about 10 head total. We thought that they are buffaloes and seemed they were released from their farm.
We can not see clearly from the far but they seem that losing weight on the stomach and look so thinner. We were able to continue to feed them because there was a lot of hay. We also found other group of cattle on the way back home. There were a handful cattle and about 10 head total, too.
Finally, we arrived at the Tomioka town which is our destination.
We arrived at Tomioka town Hall, at 8:40am. The employees of company "Sosei World" and staff members of "F・K Clean Iwaki" were already arrived and was started in preparation of experiment. The chairman of company "Sosei World "gave all the explanation of experiment procedure when gathered all members who related with the experiment operation.
In this time, the decontamination method is that samples for an experiment keep in the mixer which involves inside non-conventional machining, then put in there some adjuvant materials for a cleaning with the functional water which gives high effective of surface-active and stirred them about an hour. This experiment operated 1 time stirred in an hour because of time limitation at evucation zone. Originally, the best way was 3 times for 30 minutes each time and pour the water while operation.

Related: