Column
Update at: 1/29/12
Tomioka town 2012.1.28, Decontamination Report ①
Drive for Koriyama from Tokyo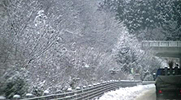 Tokyo to Koriyama I left to meeting place at Koriyama by Shinkansen from Tokyo for the decontamination experiment at Tomioka Town Hall (approximately 10 km from the Fukushima Daiichi Nuclear Power Plant) which will operate the next day on Friday, January 27, 2012.
The wind inexorably blowed up in Japanese islands, so it made us chilly on that day. Koriyama town was snow piled up and it was a very cold.
This day, the radiation dose rate was 0.12μsievert /h in my office at Shinjuku, Tokyo and 0.3 μ sievert /h. at private house which I am staying in Koriyama Town.
After all, 0.3 is so high indoor. By the way, the Geiger counter which used for the measurement is SOEKS made in Russia.
In the next morning, I went to the Hotel to ride in staff` s car for decontamination experiment. We arrived at the scheduled appointment 30 minutes earlier. The departure time was at 7 a.m but because of snow we worried from the traffic congestion and departed to Tomioka town earlier.
After got into the car, I measured the radiation dose rate and it was 0.35μ sievert/h inside of the car. Ministry of Education announced the radiation dose rate was 0.65μ sievert/h outside on that day.
Drive for Tomioka Town from Koriyama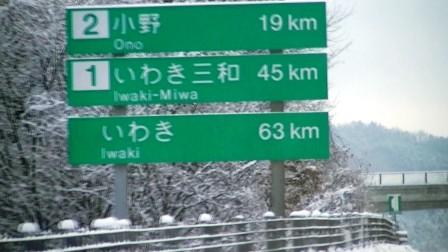 The radiation dose rate was lowered to 0.18μ sievert/h after driving about 20 minutes. The radiation dose rate was considerably higher in the city.
It goes without saying that the radiation level will be different depends on the location, height and the condition of the area.
We drive on snowy road of Joban Expressway from Koriyama towards to Tomioka town. Because of snow, the driver was slow down and driving smoothly on the way to Ono interchange. But the snow seemingly disappeared when passed Ono town. So, it `s became pretty comfortable for driving.

Related: