Project
Update at: 6/16/13
The First、Iwaki Cleanup Ekiden (Relay) 2013
11 teams of 39 runners removed 100 kg garbage
Ekiden, an ancient Japanese word that means "messenger between station," and it won`t be long before the word is as familiar to American ears as" marathon".
The key event is how unique an ekiden is and it refers to multistage relay road race in which runners pass a sash while collecting the garbage. This Cleanup Relay Project took place throughout Iwaki City which has not been fully recovered yet after earthquake disaster in Fukushim.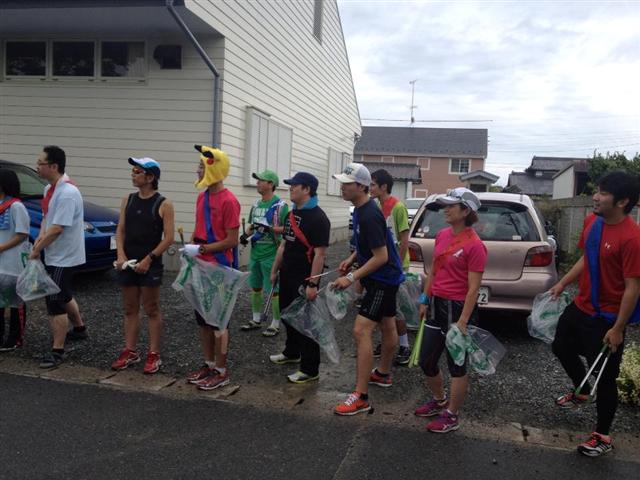 11 teams of 39 volunteers who are not only local community also from Tokyo took part in this project. Each team took part in an elaborate tactics that how to move toward the accomplishment of the higher score. It wasn`t meaning for jus get points on time and garbage which you collected or as fast as you reach in cleanup relay station.
In reality, when you run with a garbage bag it is not like as you had imagined it would be. It was so hard that any other team don't work out as their planned. Many friends were yelled out words of encouragement to runners who are collected a mountain of garbage while passing through the relay station.
I was one of the staff at the relay station but I had a strong desire to run with them and decided to run with S-san`s last section (6.5km) who is challenged by himself for 5 sections. (29 km) There are still left a lot of garbage everywhere after they run away. So, both of us tried to pick them up as much as we can and packed into the garbage bag. Surprisingly, S-san who supposed to be so tired was said "Hello" to everyone on the way. For that many people sent to him words of encouragement! "Konnichiwa" / "Arigato". It was the moment that realized by Cleanup Relay`s Glamour. We can see the finish line when almost time limit came to close.Everyone gathered close to final line to encourage for S-san who was run alone with strenuous efforts. I got so excited when take place the second Cleanup Relay.
                       Fukushima International Media Village

Related: